ADVANCED BEAUTY PARLOUR COURSE
The secret behind every charming face is an enthralling Beautician. Beauty and embellishment can never bore anybody. Every beautician loves their job and that's what makes them thrive perfectly. Love for beautification is a taste whereas creation of a pretty face is an art. Not everyone who claims to know the art of beautifying is an artist. Only the ones who have attained their skills with expert guidance, practical application and immense dedication possess the right quality. If you're aspiring to become one of them, you must try out our Beautician Course in Delhi. Here are some ecstatic beauty courses offered by us.
Basic Beautician Course In Delhi
Unless you motivate yourself to try something that isn't known already, you wouldn't grow. Learning the art of make-up and ornamentation is a facile task. All you need is good guidance and immense practical utility. Enrolling in our Beauty Parlour Course in Delhi is the first step to excel in the ever-blooming beauty field. Our experts will instill knowledge about everything related to make-up, study of skin facial, Manicure, Waxing, Light make-up, Basic Hair styling, Pressing and Bleaching. In order to begin with your career in beautification, Beauty Parlour Course in Delhi is the prerequisite.
Skilled Beauty Courses in Delhi
The key to success lies in hard-work, determination and practice. If being an expert beautician is your goal, don't just stop at the basics. Try out our Skilled Beauty Courses In Delhi which emphasizes on deeper beauty secrets and procedures. Facial studies, Client handling, skilled make-up, waxing, pressing, hair styling, draping, head massage and saloon management are the highlights of this course. Experts from every field will render learners more knowledge and its application in innovative ways. Our Beauty Parlor Course In Delhi is the finest way to brush up your basic skills and move forward towards advanced practical utility.
Advanced Beauty Parlour Course in Delhi
Even the most skilled experts were once beginners, having absolutely zero knowledge about the field. Once you become instilled with the eminent skills of beauty, it's time to be an expert. Our Cosmetology Beauty Parlor Course In Delhi awards a globally-recognized International Cosmetology License (US State License) on completion the course. Everything from hair care, hairstyling, hair cutting to facials, high-end makeup, male grooming are the main features of this course. You must focus on the excellence of beauty and success will follow.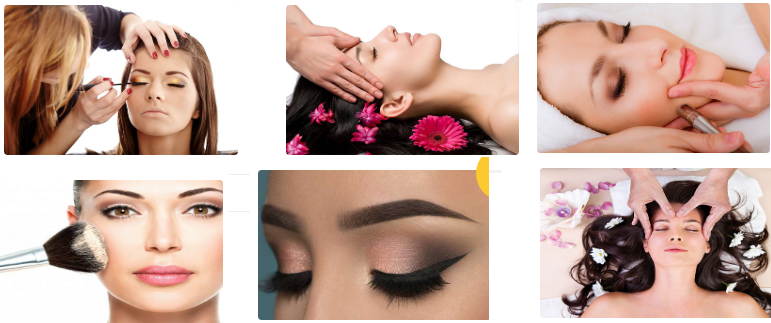 Beauty parlour course course Content / syllabus
Below is the Beauty parlour course course content used by the training institutes as part of the Beauty parlour course course training. The Beauty parlour course course syllabus covers basic to advanced level course contents which is used by most of Beauty parlour course training classes in delhi-ncr .
1.Make-Up
  a.Bridal
  b.Stage
  c.Corrective (Day + Night)
2.Hair Dressing  
  a.Advance Hair Cutting (10)
  b.Advance Hair Style (11)
  c.Straightening
  d.Hot Rolling
  e.Perming
  f.Hair Highlighting
  g.Global Colouring
  h.Crimping
  i.Tong Rolls
3. Advance Mehendi
  a.Bridal
  b.Arabic
4.Skin Care
  a.Galvanic Machine
  b.High Frequency Machine
5.Facial
  a.Fruit & Juice
  b.Gold
  c.Shehnaz
6.Skin Whitening (Aroma)
7.Skin Polish & Shiner With Brushing
8.Pimple Treatment